2008 | OriginalPaper | Chapter
Contemporary Adolescence: Still the 'Age Between'?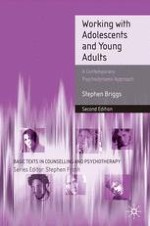 Author: Stephen Briggs
Publisher: Macmillan Education UK
Log in
Contemporary adolescence is organised now around two distinct phases. The transition from childhood to early adolescence, through the impact of puberty, is a period of intense growth and far-reaching changes — physically, cognitively, emotionally. This is followed by a long transition into adulthood, which, though inclusive of diverse 'pathways', is usually extended, lasting approximately for a decade from mid/late teens until the mid-twenties. Primarily affected by social changes, this long transition to adulthood severely tests traditional thinking about the adolescent process, particularly the central concept of identity formation. Upheavals in the social world and the changing contexts for young people mean that a new sense of turbulence has become apparent, evidenced by concerns about increasing adolescent mental health problems and the emergence of new kinds of problems.