2008 | OriginalPaper | Chapter
Contexts for Reflection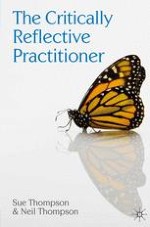 Authors: Sue Thompson, Neil Thompson
Publisher: Macmillan Education UK
Log in
Chapter 2 was divided into three main sections, each relating to an important dimension of reflection. Chapter 3 is also divided into three main sections, this time relating to three different
contexts
for reflection. The structure is based on Clutterbuck's comments when he argues that:
An important factor here is the creation of reflective space — time to focus on thinking, understanding and learning instead of doing. Reflective space is important at three levels: personal (quiet thinking time on one's own); dyadic (one-to-one); and as a group or team.

(1998, p. 15)
Our subject matter in this chapter is therefore concerned with these three sets of contextual issues:
Personal reflective space
. How can I maximize my potential for guiding my own reflection and promoting my own critically reflective practice?
Dyadic reflective space
. How can supervision, coaching or mentoring be put to best use in terms of promoting critically reflective practice?
Group learning space
. How can we maximize the positive outcomes in terms of promoting reflective practice by the use of group learning experiences (training courses, for example)?
We shall explore each of these important areas in turn.