2013 | OriginalPaper | Chapter
Controlling the Audience?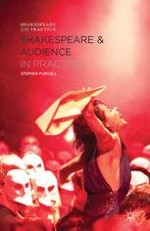 Author: Stephen Purcell
Publisher: Macmillan Education UK
Log in
This section of the book is about the practice of being a Shakespearean audience. It is easy to forget that being an audience is every bit as much a practice as, for example, acting, directing, or set design. We might think of the audience's role in the theatrical exchange as being merely to watch quietly and make sense of what happens in front of us. But as we saw in Part II, even this is not an entirely passive activity. Indeed, there is a strong case to be made that it is in the space between stage and audience that the 'play' actually happens. 'Play', as Jacques Lecoq recognised, is a verb as well as a noun. Plays play with their audiences, and audiences generally play in return. Without an audience to make sense of it, a play is much like Macbeth's 'tale/Told by an idiot': 'full of sound and fury, /Signifying nothing' (5.5.25-7).