2019 | OriginalPaper | Chapter
6. Conversion: Decision-making in International Organizations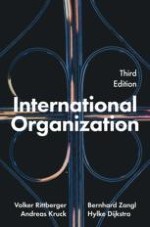 Authors: Prof. Dr. Volker Rittberger, Bernhard Zangl, Dr. Andreas Kruck, Hylke Dijkstra
Publisher: Macmillan Education UK
Log in
Abstract
International organizations convert inputs into outputs. In this book, we argue that the conversion process is vitally important: two different international organizations may convert similar inputs into different outputs. So what does this conversion process look like? And what is so special about it? In this chapter, we discuss how inputs are transformed into outputs in international organizations. It is important to differentiate, in this respect, between two types of decisions: programme decisions and operational decisions.
Programme decisions
are decisions about a set of norms and rules aimed at directing the behaviour of actors. The programme decisions of international organizations mostly set normative standards for the behaviour of their member states and are comparable to law-making at the state level. International organizations that mainly take programme decisions have been defined as programme international organizations (see Chapter 1). Operational international organizations, by contrast, mainly take
operational decisions
. These decisions relate to the implementation of the norms and rules of existing programmes. This includes activities such as monitoring member states' compliance with normative standards and enforcing those standards in case of non-compliance. Distinguishing between programme decisions and operational decisions is important, because the decision-making processes frequently differ.