Hint
Swipe to navigate through the chapters of this book
2014 | OriginalPaper | Chapter
3. Counting 101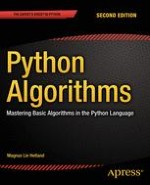 Author: Magnus Lie Hetland
Publisher: Apress
Log in
Please log in to get access to this content
To get access to this content you need the following product:
1
As long as the functions don't have any side effects, that is, but behave like mathematical functions.
2
3
If this were true, the human population would have consisted of one man and one woman about 32 generations ago ... but, as I said, play along.
4
Reportedly, this is the reward that the creator of chess asked for and was granted ... although he was told to count each grain he received. I'm guessing he changed his mind.
5
Do you see where the –1 in the exponent went? Remember, 2
a

+

b
= 2
a
· 2
b
...
6
Another thing that's not immediately obvious is where the name "binomial coefficient" comes from. You might want to look it up. It's kind of neat.
7
Merge sort is a classic, first implemented by computer science legend John von Neumann on the EDVAC in 1945. You'll learn more about that and other similar algorithms in
Chapter 6
. Gnome sort was invented in 2000 by Hamid Sarbazi-Azad, under the name Stupid sort.
8
If you're not sure about the difference between
discrete
and
discreet
, you might want to look it up.
Title

Counting 101

DOI

https://doi.org/10.1007/978-1-4842-0055-1_3

Author:

Magnus Lie Hetland


Publisher

Apress

Sequence number

3

Chapter number

Chapter 3