2016 | OriginalPaper | Chapter
4. Data by Set or by Row?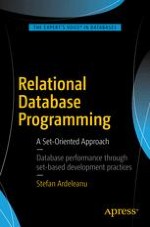 Author: Stefan Ardeleanu
Publisher: Apress
Log in
Abstract
This book is divided in two parts. The first part describes the concepts and the second part illustrates these concepts with practical examples. With these examples I want to show that, very often, the same task within a database can be done either using the atomic style of programming, a common style used by many application developers, or using the holistic approach for data access, the true SQL style of programming, a style that is specific to authentic database programmers but should be used by any kind of programmer working at the database level. You will see that this latter style of programming is much simpler and more accurate. The code is much simpler, the performance is better, and the code is highly portable from one database system to another. Actually, I don't see any advantage of the atomic approach over the holistic approach (of course, these considerations apply to the specific context of relational database development).