2013 | OriginalPaper | Chapter
10. Database Availability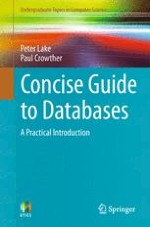 Authors: Peter Lake, Paul Crowther
Publisher: Springer London
Log in
Abstract
Once your system is built, you need to be able to have it available for use permanently (or as close to permanently as can be achieved within the financial resources at your disposal). We review key concepts such as back-up, recovery, and disaster recovery.
The holy grail for Availability is often thought to be Five-Nines—that is having the database available for 99.999 % of the time. To achieve this a database would need to be on-line for all but a few minutes a year, and, unless organisations are willing to spend heavily, this is an almost impossible target, as we explain in the chapter. We look at the things that do go wrong in database systems to try and understand how we can get to as close to the target as possible.
As we see, we can't rely on the database platform being error free. To safeguard against unexpected data loss we need to take copies of the data known as Back-ups. If you should lose any data, then you use the copies stored as a backup to replace the lost data. We review alternative approaches to Backup and Recovery, and then go on to discuss Disaster Recovery. Cloud computing does change the way we think of Availability and we examine a variety of differences that Cloud brings.