2015 | OriginalPaper | Chapter
Decentralization within the State: Good Theory but Poor Practice?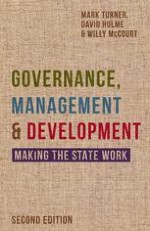 Authors: Mark Turner, David Hulme, Willy McCourt
Publisher: Macmillan Education UK
Log in
A major obstacle to the effective performance of public bureaucracies in most developing countries has been the concentration of decision-making authority within central government. Public sector institutions have often been perceived as geographically and socially remote from citizens and acting without knowledge and concerns about actual problems and popular preferences. A common remedy to this malady in developing countries has been decentralization. Identified as 'the latest fashion in development administration' (Conyers, 1983) in the early 1980s, decentralization has subsequently transformed into a seemingly essential component of state reform. It appears to be de rigueur for developing countries to have one or more decentralization initiatives. Thus, a World Bank (IEG, 2008) review of its 'decentralization investments' between 1990 and 2006 counted 89 recipient countries. Other donors have been equally enthusiastic in their support of decentralization initiatives with one publication even suggesting that we are in 'the golden era of decentralization' (Siegle and O'Mahony, 2007: 2) in which the question is not whether one decentralizes but what and how one decentralizes (White and Smoke, 2005).