2003 | OriginalPaper | Chapter
Decolonisation after 1945: how did British imperialism end?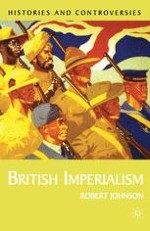 Author: Robert Johnson
Publisher: Macmillan Education UK
Log in
Decolonisation was a term that came into general use in the 1950s, but it has been challenged since it implies the initiative for the relinquishing of the empire emanated from the metropolis. Nationalists have preferred to use 'liberation struggle' or 'resumption of independence', although the latter claim (implying complete continuity) is tenuous.1 The date for the origin of decolonisation is also debated. Paul Kennedy argued that the European empires had always contained the seeds of their own destruction.2 Muriel Chamberlain believes that the loss of India in 1947 marked the turning point for the British Empire, but George Boyce notes that the British had always had a sense of contingency, they had adapted to changing conditions and drew upon these experiences rather than any rigid theories.3 This flexibility was a strength; it helped them to avoid destructive ideological wars and to withdraw from the imperial experience relatively unscathed. It also provided useful justifications to excuse actions that had been forced upon them. It was easy to see a trend towards eventual self-government in the writings of Liberals and radicals.