2015 | OriginalPaper | Chapter Open Access
7. Deep Neural Networks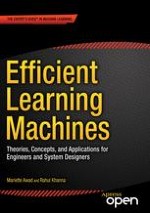 Authors: Mariette Awad, Rahul Khanna
Publisher: Apress
Log in
Abstract
Proposed in the 1940s as a simplified model of the elementary computing unit in the human cortex,
artificial neural networks
(ANNs) have since been an active research area. Among the many evolutions of ANN,
deep neural networks
(DNNs) (Hinton, Osindero, and Teh 2006) stand out as a promising extension of the shallow ANN structure. The best demonstration thus far of hierarchical learning based on DNN, along with other Bayesian inference and deduction reasoning techniques, has been the performance of the IBM supercomputer Watson in the legendary tournament on the game show
Jeopardy!
, in 2011.