2011 | OriginalPaper | Chapter
Devolution: A Disunited Kingdom?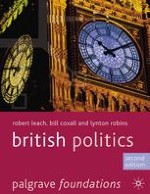 Authors: Robert Leach, Bill Coxall, Lynton Robins
Publisher: Macmillan Education UK
Log in
The British state appears to be under pressure from both above and below. While some fear British national sovereignty is threatened by the growth of a European superstate, others suggest that it could disintegrate into smaller component parts in response to demands from separatist nationalists in Scotland, Wales and Northern Ireland. At the heart of the problem are confused and conflicting national identities and interests within the United Kingdom. We explore briefly the implications of the ideology of nationalism for British government and politics. We examine the growth and possible decline of British nationalism, as well as the variously expressed nationalist pressures in Northern Ireland, Scotland and Wales. We go on to discuss the political background to the development of different forms of devolved government within the United Kingdom, and some of the unresolved problems remaining, including the substantial problem of England, and the now stalled prospects for English regional devolution.