2015 | OriginalPaper | Chapter
8. Digits, Revisited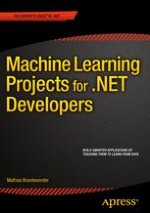 Author: Mathias Brandewinder
Publisher: Apress
Log in
Abstract
In
Chapter 1
, we explored together the digit recognizer problem, and wrote a classifier from scratch. In this final chapter, we are going to revisit that problem, from two different angles: performance, and useful tools.
Chapters 1
to
7
were primarily focused on implementing algorithms to solve various problems, and discovering machine learning concepts in the process. By contrast, this chapter is more intended as a series of practical tips which can be useful in various situations. We will use the digit recognizer model we created in
Chapter 1
as a familiar reference point, and use it to illustrate techniques that are broadly applicable to other situations.