2002 | OriginalPaper | Chapter
Disability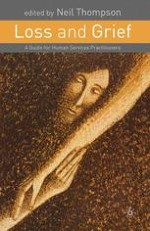 Author: Bob Sapey
Publisher: Macmillan Education UK
Log in
In 1988, Raymond Berger, Professor of Social Work at the California State University, published a paper in the magazine
Social Work Today
, which dealt with the issue of working with people who had experienced some form of traumatic loss. Whilst primarily addressing a social work audience, this paper dealt with the ways in which a wide variety of health and welfare professions work with disabled people. The paper was significant for two reasons. First, it was quite extensively researched in comparison to most articles that appeared in that or other weekly professional magazines. Indeed, the following week one reader cited this paper as partly responsible for him finding that edition to be accurate, practical and analytical. However, the second reason for the paper's significance was the strength of response it received from Mike Oliver, now Professor of Disability Studies at the University of Greenwich. He bemoaned the disablism within Berger's paper and in the magazine's decision to publish it, and compared it to having:
topless social workers on page three as a means of combating sexism in social work, or a pictorial history of the black and white minstrel show as a guide to anti-racist practice (Oliver, 1988, p. 12)
Why should a paper on loss, considered by one person to be accurate, practical and analytical, lead to such a response?