2005 | OriginalPaper | Chapter
Discourse Ethics:Constructionism or Critical Realism?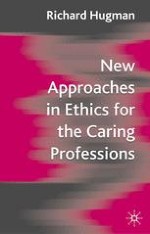 Author: Richard Hugman
Publisher: Macmillan Education UK
Log in
In the previous four chapters we have examined major developments in ethics that in the latter part of the twentieth century began to present challenges to the dominant ways of looking at ethics in the caring professions. As Tronto puts it, ' the hegemony of Neo-Kantian ethics has been challenged by moral theories that rely upon compassion, care, the emotions, and to some extent, communication', drawing on a variety of perspectives that share roots in the ideas originally set out by Aristotle (Tronto, 1993, p. 149). So far the discussion has focused on compassion seen as an intelligent emotion, the ethics of care, the ethics of ecology and of postmodernity; it has emphasised questions of emotion, perception, context, character and virtue, subjectivity and inter-subjectivity. In this chapter the other element that is identified by Tronto as part of changing approaches to ethics will be considered, namely that of communication.