2017 | OriginalPaper | Chapter
Does the EU Act as Normative Power?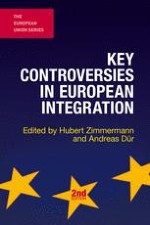 Authors: Hubert Zimmermann, Andreas Dür
Publisher: Macmillan Education UK
Log in
For centuries, states were the main actors on the global stage. International organizations and supranational institutions such as the EU were seen as little else but instruments in the hands of powerful governments and their constituents. Thus, it is not surprising that few commentators cared to think about the EU as global actor during the early decades of European integration. Events in the early 1990s changed all this. The end of the Cold War removed the umbrella of bipolar great-power rivalry under which the Europeans were able to hide. The Maastricht Treaty institutionalized a common foreign and security policy as part of the EU, and the bloody break-up of Yugoslavia brought home the need for common approaches to many pressing international issues which were beyond the problem-solving capacity of single member states. In more and more areas, ranging from foreign trade to development aid, environmental diplomacy, human rights policy, financial regulation, energy issues and so on, the European Union became an international actor on its own right (Bretherton and Vogler, 2006). Debates in the 1970s and 1980s on whether the EU should be seen as an independent actor on the world stage petered out. Now the focus is on the issue of what kind of an actor the EU is. Does it act increasingly like a traditional state with similar means and ends or does it constitute something entirely new?