2013 | OriginalPaper | Chapter
Does the Supreme Court bind itself?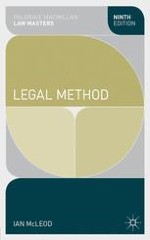 Author: Ian McLeod
Publisher: Macmillan Education UK
Log in
In Austin v Southwark London Borough Council [2010] UKSC 28, [2010] 4 All ER 16, Lord Hope DP, giving the leading judgment of the Supreme Court (which had come into being less than a year before) expressly stated that the approach of the House of Lords to the self-bindingness of its own decisions was 'part of the established jurisprudence relating to the conduct of appeals in the House of Lords which was transferred to this court by s. 40 of the Constitutional Reform Act 2005'. The discussion in this chapter is, therefore, able to proceed on the basis of the body of House of Lords' authority, which may otherwise have been considered to be of historic interest only. More particularly, this chapter considers the extent (if any) to which the principle of self-bindingness at the highest level in the judicial hierarchy does (and should) differ between civil and criminal cases. However, it begins by setting the historical context from which the current attitude to that self-bindingness has evolved.