2016 | OriginalPaper | Chapter
Economic Governance: Towards a 'gouvernement économique'?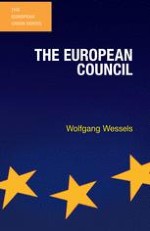 Author: Wolfgang Wessels
Publisher: Macmillan Education UK
Log in
Besides studying system-making agreements, this book deals with the activities, agreements and acts of the European Council in key areas of EU policy-making. Issues of economic governance are particularly high on its agenda. The various monetary, fiscal, employment, social and other economic policies that constitute this domain are usually regarded as the most important, or are at least the most frequently discussed, areas of the European Council's policy-making (see for example Puetter, 2014; Van Rompuy, 2010a). Following their problem-solving instincts, the Union's political leaders since the 1970s have made regular and extensive use of the European Council to cope with the economic challenges facing their countries.