2013 | OriginalPaper | Chapter
Empowerment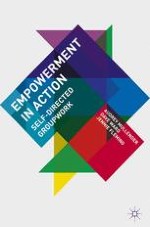 What Does It Really Mean?
Authors: Audrey Mullender, Dave Ward, Jennie Fleming
Publisher: Macmillan Education UK
Log in
Self-directed groupwork aims fundamentally to empower group members. As such, it sits at the heart of a contemporary discourse that needs unpacking if we are to understand empowerment in its purest sense. The notion of citizen empowerment is a core feature of the policies of all mainstream political parties in the UK and has become established in government policy here and beyond. It can be seen, for example, in the 'personalization' agenda in adult social care, in 'patient choice' in the health services, in the extension of participation rights for young people in the education, children's and youth services, in 'active citizenship', in 'stakeholding' and in the notion of 'experts by experience'. This very ubiquity suggests that there is likely to have been dilution, co-optation, imitation and tokenism along the way, with relatively little real empowerment taking place.