2014 | OriginalPaper | Chapter
Environmental Human Rights?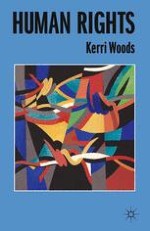 Author: Kerri Woods
Publisher: Macmillan Education UK
Log in
In the early twenty-first century we face a looming environmental crisis. The depletion of non-renewables, such as fossil fuels, is actually less of a concern than the threat to renewable environmental resources, such as a stable climate and biodiversity. If Shue is right that human rights protect against 'standard threats' to human dignity (see previous chapter), then we might well find that environmental problems turn out to be amongst the standard threats that human beings face in the twenty-first century. In recent years there have been calls for the protection of 'environmental human rights' from NGOs and activist groups (such as Amnesty International, above), as well as philosophical defences of such rights from within the academic community. These have sometimes been conceived in broad terms, for example, as a human right to a 'decent' environment, and sometimes in very specific terms, as in a human right to water, or to the ownership of specific natural resources. The global reach of human rights seems prima facie well suited to addressing the global scope of environmental problems like climate change and biodiversity loss.