1997 | OriginalPaper | Chapter
Epilogue: A New Age?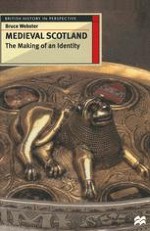 Author: Bruce Webster
Publisher: Macmillan Education UK
Log in
The disaster at Flodden in 1513, when James IV's entry into the war against Henry VIII resulted in his own death and that of most of his leading nobles, left Scotland yet again in a highly problematic minority. The new king, born only the year before, was not to exercise royal authority in person, even formally, till 1526, when he reached the age of fourteen. James IV had left an ambiguous legacy for those who had to decide the orientation of Scottish policy in the increasingly turbulent and convoluted politics of the sixteenth century. His marriage to Margaret Tudor left a Queen Dowager anxious to assert her authority and naturally inclined towards an alliance with her brother Henry VIII of England. But the heir presumptive to the infant King was John Duke of Albany, who had been brought up in France following his father's exile in 1483, after an ultimately abortive rising in 1482 against James III;1 and when he was recognised as 'Lord Governor of Scotland' in 1515, he was equally naturally inclined to turn Scottish policy towards France.