1999 | OriginalPaper | Chapter
Epilogue: The Contraction of England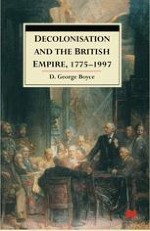 Author: D. George Boyce
Publisher: Macmillan Education UK
Log in
It is not easy today to think of the English as Seeley defined them over a century ago as an imperial people, as an 'Anglo-Saxon' nation that spread its peoples and its power over the globe. And the last half of this century has witnessed the demise of an empire whose apparent permanency was summed up by the historian D. W. Brogan in 1947:
Nevertheless, as a rule, when Divine Providence has put a part of the world under English rule, it has usually stayed, often quite willingly, in the state unto which it pleased God to call it. And contemplating this fact we are inclined to agree with Mark Twain: the English

are

mentioned in the Bible.