2016 | EU Politics Collection | Book
The European Council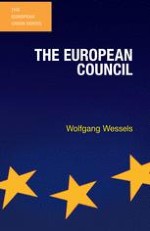 Publisher: Macmillan Education UK
Print ISBN: 978-0-333-58747-8
Electronic ISBN: 978-1-137-54335-6
About this book
This systematic assessment of the -often opaque- European Council looks at its characteristics, leaders and output as well as its impact on EU supranational and intergovernmental dynamics. Taking account of historical and contemporary developments up to and beyond the Lisbon Treaty, it encourages in-depth understanding of this key institution.
Table of Contents
The European Council: Overview and History
The Role of the European Council within the EU Architecture
Inside the European Council: The Dynamics of Decision-Making
Activities, Agreements and Acts
Conclusions and Perspectives: A Key Institution'? Rise and Decline?
Title

The European Council

Publisher

Macmillan Education UK

Print ISBN

978-0-333-58747-8

Electronic ISBN

978-1-137-54335-6

Copyright Year

2016

DOI

https://doi.org/10.1007/978-1-137-54335-6

Author:

Wolfgang Wessels