2016 | OriginalPaper | Chapter
10. Fast Approximate Optimization in High Dimensions with Core-Sets and Fast Dimension Reduction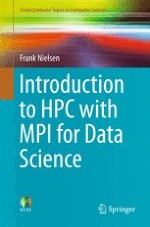 Author: Frank Nielsen
Publisher: Springer International Publishing
Log in
Abstract
Often one is interested to solve optimization problems on very large size data-sets. It can be computationally interesting
not
to solve for the exact optimal solution (or one of the optimal solutions when several such optimal solutions exist) but rather seek for a
guaranteed approximation
in faster time. For example, consider the
k-means clustering
problem: we seek to minimize the
k
-means cost function (i.e., weighted sum of cluster variances, see Chap.
7
). It makes sense to think that under some stability hypothesis to point perturbations of the optimal clustering, an approximation of the minimization of the cost function (instead of the regular
k
-means objective function) will end up with a good (if not an optimal) clustering.