2016 | OriginalPaper | Chapter
For What Purposes Can Mentoring or Coaching Be Utilised?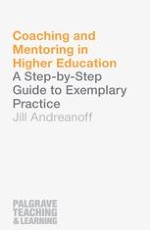 Author: Jill Andreanoff
Publisher: Macmillan Education UK
Log in
As has already been seen, mentoring and coaching can be used in a variety of settings and to meet a number of different objectives. I am saddened by the number of organisations that use a mentoring or coaching programme as a means of 'ticking a box' rather than to satisfy a genuine agenda. By paying lip service to a programme, some institutions use it as a means to impress certain regulatory organisations by stating that they have a mentoring or coaching programme in place. Unfortunately, the programme may not necessarily be well organised or meet any targets, but its mere existence is sufficient to impress. This text is directed at those who have a genuine desire to use mentoring/coaching to meet their aims and objectives through a well-run programme rather than as a numbers game. As already demonstrated, this takes a serious investment of time, energy, and funding. The growing body of organisations that regulate mentoring and coaching provision, such as the Mentoring & Befriending Foundation in the UK, the ICF (International Coach Federation) in the USA, and the EMCC (European Mentoring & Coaching Council), will hopefully serve to continue to improve practice.