2001 | OriginalPaper | Chapter
From Mental Illness to Mental Health?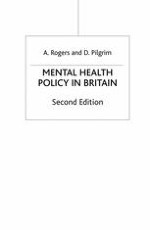 Authors: Anne Rogers, David Pilgrim
Publisher: Macmillan Education UK
Log in
Most of what are called mental health services actually respond to people with a diagnosis of mental illness. In this chapter, we consider the issues of mental health promotion and prevention in its broader social context. As institutions recede not only as a means of incarceration but also from the public eye, influences on mental health and well-being from within broader social life take on greater salience. This includes the social and personal factors that make people vulnerable to mental distress, and aspects of the environment that promote or inhibit psychological well-being. It includes the way in which the public, government and community agencies include or exclude those with mental health problems and accept or reject them as 'citizens'.