2005 | OriginalPaper | Chapter
From Vorster to Botha: New Departure or Militarised Cul de Sac?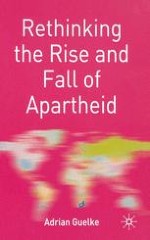 Author: Adrian Guelke
Publisher: Macmillan Education UK
Log in
On 25 April 1974, the day after South African whites voted in a general election, the outcome of which strengthened the Vorster government's hold on power, there was a leftwing military coup d'état in Portugal. It overthrew the country's long-standing dictatorship. The coup was a reflection of the strains placed on Portuguese society by the continuing wars in the country's African colonies. It had profound implications for the whole of Southern Africa. The abrupt change in Portugal meant that the transition to majority rule in the country's colonies would follow a revolutionary rather than an evolutionary path. In fact, the overthrow of Portugal's dictatorship reinforced the trends towards radicalism in the other countries in Southern Africa. Whereas the sources of the radicalism of the early 1970s had been primarily internal in each case, after the coup the interaction between events in the different countries became marked. There was a widening and intensification of the guerrilla war in Rhodesia as a result of Frelimo's coming to power in Mozambique. Demonstrations by supporters of Black Consciousness in 1974 in favour of Frelimo underlined the impact of the changes flowing from the Portuguese coup on black opinion in South Africa. But far more significant was the role that events in Angola, particularly the defeat of South African military intervention in the country's civil war, played in encouraging the Soweto uprising that began in June 1976.