2010 | OriginalPaper | Chapter
Full time or part time?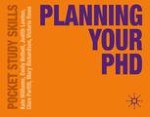 Authors: Kate Williams, Emily Bethell, Judith Lawton, Clare Parfitt, Mary Richardson, Victoria Rowe
Publisher: Macmillan Education UK
Log in
Full time or part time study may be a matter of choice, or it may be determined by your circumstances. Consider whether you … can afford to study full time — or is it just not possible? If you do not have funding (see p. 8), how will you manage? have an end date in mind? And is it realistic? Figures from HEFCE (Higher Education Funding Council for England) will give you an idea of the variation between different universities and departments. have something (or someone) to place a specific deadline on your completion? Both ways of studying for a PhD result in the same end, but they are very different experiences.