2006 | OriginalPaper | Chapter
Gender, Sex and Embodiment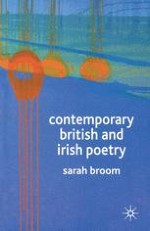 Authors: Simon Armitage, Carol Ann Duffy, Grace Nichols
Publisher: Macmillan Education UK
Log in
Carol Ann Duffy's poem 'Pope Joan' takes the voice of the woman who, in popular history, is said to have occupied the papal chair at some point during medieval times. She was only revealed as a woman when she gave birth in public during a procession, after which she was reputedly stoned to death. Duffy's Pope Joan learns the hermetic secrets of the papacy, for centuries a male-only preserve, and becomes accustomed to a position of spiritual authority. But her experience at the pinnacle of spiritual power serves only to lead her to 'believe/that I did not believe a word',
1
and she confides to her audience, 'daughters or brides of the Lord',
that the closest I felt

to the power of God

was the sense of a hand

lifting me, flinging me down,

lifting me, flinging me down,

as my baby pushed out

from between my legs

where I lay in the road

in my miracle,

not man or a pope at all. (

WW

, 68–9)
This poem, which I will discuss later in the chapter, highlights the relationship between 'performed' gender and 'material' sex and in so doing draws our attention to a nexus of fascinating and troublesome arguments in contemporary theory. Postmodern popular culture, as well as postmodern academic discourse, has tended to undermine the binary oppositions associated with gender: male/female; masculine/feminine. While this tendency has in part been driven by feminist theory, it has also produced difficulties for feminism, since the very category upon which feminism was founded — 'woman' — can no longer be relied upon to remain stable.