2017 | OriginalPaper | Chapter
Germany and the Crisis:Asset or Liability?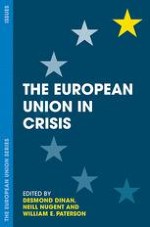 Authors: Desmond Dinan, Neill Nugent, WilliamE. Paterson, Simon Bulmer
Publisher: Macmillan Education UK
Log in
The EU crisis has presented important challenges for Germany. In the early 1990s, Germany's post-unification commitments to deeper integration in the Maastricht Treaty were accompanied by the internal challenges of integrating the former East Germany into the Federal Republic. Later, in the 1990s, the German economy was named the 'sick man of the Euro' (Economist, 1999). However, economic and social reforms in the 2000s under the Red–Green (Social Democrats – Greens) coalition of Gerhard Schröder resulted in a much stronger economic position, prompting Thomas Bagger, the head of policy planning in the German Foreign Office, to write of 'the German moment' (Bagger, 2014: 26). A more apt description may be that Germany has become 'the indispensable power' in the EU. As such, German agreement is a prerequisite for forging EU solutions to most dimensions of the crisis. Germany may be indispensable, but is it an asset or a liability in helping the EU weather the storms of the 2010s? The traditional view is that it is Germany, 'in the form of … a pro-integrationist regional hegemon that best explains Europe's comparatively very high level of political integration' (Webber, 2014: 355; for wider debate on Germany's role in the EU, see Bulmer and Paterson, 2010).