2007 | OriginalPaper | Chapter
Globalization and the State: Leviathan Under Threat?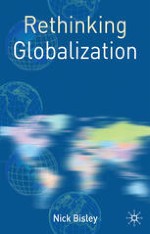 Author: N. Bisley
Publisher: Macmillan Education UK
Log in
Since globalization first emerged the argument that contemporary economic and political circumstances are undermining the power and efficacy of the state has been never far from sight. As far back as the late 1960s, Charles Kindleberger famously declared that the nation state was 'just about through as an economic unit' (Kindleberger, 1969: 207). Unsurprisingly, the proposition that globalization is hollowing out the state has become one of the central arguments in the globalization debate. Footloose capital, global money markets and muscular MNCs are thought to be reducing states to little more than pawns in the game of global capitalism. States are said to have virtually no control over their economies and must follow the dictates and interests of global economic forces. Beyond the economic sphere, it is said, the state is caught in a pincer movement as the power and pervasiveness of international organizations suck political authority and regulatory power up and away from states while ethnic groups, regions and local networks grab what remains for themselves. As borders become ever more porous, this anachronistic institution, so the argument goes, can do little to stem the tide. Given the nature, scale and speed of change it is unsurprising that analysts and scholars might come to the conclusion that a social institution that has its origins in Europe's 17th century wars of religion is not particularly well suited to deal with the gamut of economic, political and social challenges that human societies face in the 21st century.