2001 | OriginalPaper | Chapter
Grant-Making Foundations: Policy Shapers or Policy Takers?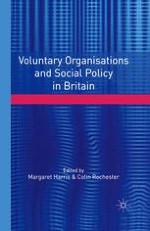 Author: Diana Leat
Publisher: Macmillan Education UK
Log in
This chapter moves the spotlight away from organisations which provide services or undertake other activities for the benefit of groups of users to those whose function is to provide funds to operating organisations of that kind. Like operating charities grant-making foundations work in the 'space' between market and state (Deakin, 1996; Kendall and Knapp, 1996; Knight, 1993). The size, shape and nature of that 'space' in large part determines what foundations do and the demands made upon them. In that respect, foundations are policy takers. But many foundations have pioneered the funding of new approaches and services which have subsequently been incorporated into statutory provision. In that respect, foundations have been policy shapers. At the same time, however, grant-making foundations have traditionally claimed that they have nothing to do with the state.