Hint
Swipe to navigate through the chapters of this book
2014 | OriginalPaper | Chapter
Graph Terminology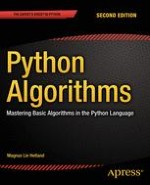 Author: Magnus Lie Hetland
Publisher: Apress
Log in
Please log in to get access to this content
To get access to this content you need the following product:
1
As quoted by Albert-László Barabási in his book
Linked: TheNew Science of Networks
(Basic Books, 2002).
2
You probably didn't even think of it as an issue, but you can assume that
V
and
E
don't overlap.
3
The functions would still be called
V
and
E
, even if we give the sets other names. For example, for a graph
H
= (
W
,
F
), we would have
V
(
H
) =
W
and
E
(
H
) =
F
.
4
As explained later, though, the root is not considered a leaf. Also, for a graph consisting of only two connected nodes, calling them both leaves sometimes doesn't make sense.
5
Note that this is the same terminology as for the in- and out-neighborhoods in digraphs. The two concepts coincide once we start orienting the tree edges.
6
This is true only if all nodes can be reached from the start node. Otherwise, the traversal may have to restart in several places, ­resulting in a
spanning forest
. Each component of the spanning forest will then have its own root.
Title

Graph Terminology

DOI

https://doi.org/10.1007/978-1-4842-0055-1_14

Author:

Magnus Lie Hetland


Publisher

Apress

Sequence number

14

Chapter number

Appendix C