2008 | OriginalPaper | Chapter
Health and Social Care: From Collaboration to Incorporation?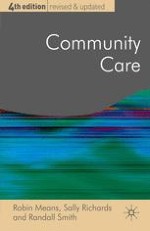 Authors: Robin Means, Sally Richards, Randall Smith
Publisher: Macmillan Education UK
Log in
Labour governments in the late 1990s announced on numerous occasions that they were determined to break down the supposed 'Berlin Wall' between health and social care agencies. This chapter focuses on both the shifting boundaries between health and social care and also on the changing approaches to encouraging effective joint working across that boundary. It explores whether or not there has been a fundamental policy shift from an emphasis on collaboration between partners to one where social services are to be largely incorporated into health. The first section, however, provides a short introduction to the problematic nature of joint working.