2019 | OriginalPaper | Chapter
2. Hello, World!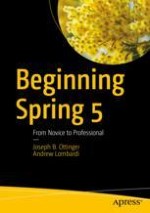 Authors: Joseph B. Ottinger, Andrew Lombardi
Publisher: Apress
Log in
Abstract
It seems appropriate to start learning about Spring by building out our first example as a simple "Hello, World!" application. In this chapter, we're going to take a look at the tools and libraries we're going to rely on – in particular, Gradle and TestNG – and build a simple application to demonstrate how we validate that our application works as designed. Then – at last – we'll leverage Spring in our application. This way, we'll establish the knowledge we'll need to make sense of the rest of the book.