2011 | OriginalPaper | Chapter
5. Hoare Logic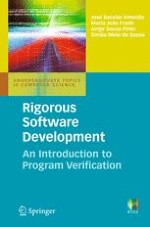 Authors: Dr. José Bacelar Almeida, Dr. Maria João Frade, Dr. Jorge Sousa Pinto, Dr. Simão Melo de Sousa
Publisher: Springer London
Log in
Abstract
Hoare logic is the fundamental formalism introduced by C.A.R. Hoare in 1969 for reasoning about the correctness of imperative programs, building on first-order logic. In this chapter we study a program logic which is a variant of Hoare logic for programs containing user-provided annotations.
The logic deals with the notion of correctness vis a vis a specification that consists of a precondition and a postcondition. The correctness of a program with respect to a given specification is asserted by constructing a derivation in the inference system of Hoare logic. While doing so, one must identify an invariant for every loop in the program.
This chapter also discusses the important problem of adaptation of specifications, since it has major implications on the design of practical verification systems based on Hoare logic.