2020 | OriginalPaper | Chapter
Hostile Takeovers: Corporate Governance Solution or Social Cost?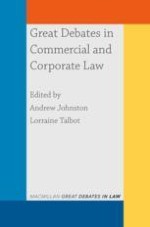 Author: Andrew Johnston
Publisher: Macmillan Education UK
Log in
The hostile takeover is perhaps the most important and controversial – and certainly the most spectacular – feature of the UK corporate governance landscape. This chapter begins with the conventional description of takeovers, which insists that they are simply transfers of shares from dispersed shareholders to a new majority shareholder. It then looks at how changes to law and soft law turned transfers of shares into transfers of corporate control, which in turn came to be viewed as a solution to the 'agency' problem of corporate governance. Managerial discretion was truncated as directors focused on keeping the shareholders happy and the share price high in order to head off the threat of takeover. It then explores some of the critical debate about takeovers, focusing on the arguments that they create social costs, encourage short-termism and allow the breach of implicit contracts between employees and companies. It concludes with some thoughts on the prospects for reform.