2017 | OriginalPaper | Chapter
How Democratic is the EU?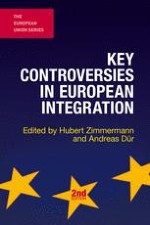 Authors: Hubert Zimmermann, Andreas Dür
Publisher: Macmillan Education UK
Log in
Talk about the EU's democratic deficit started in the mid-1980s, in the midst of the implementation of the single-market programme. The fear arose that this programme involved a step change in the integration process that would undermine democratic accountability at the memberstate level without providing any compensation for this loss through improved forms of democratic oversight of policy-making at the EU level. The failed referendum on the Maastricht Treaty in Denmark (1992) was the first visible rejection of EU policies by an electorate. Ever since, the critics have denounced a shift in power away from national parliaments and towards national governments and the Commission, as a result of European integration (for example, Føllesdal and Hix, 2006; Weiler, 1991). The EU's decision-making rules foresee that policies are first elaborated by the Commission, a bureaucracy that is not subject to electoral control. When these policies then are debated by national governments in the Council of Ministers, a lack of transparency impedes control by national electorates. Moreover, the critics argue that the only directly elected institution at the European level, the European Parliament, lacks the powers to counterbalance the Commission and Council in the decision-making process.