2017 | OriginalPaper | Chapter
How do Citizens Communicate Politically?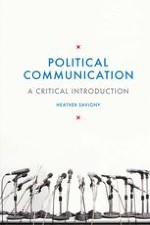 Author: Heather Savigny
Publisher: Macmillan Education UK
Log in
Much of this book has been concerned with how media and politics communicate with each other and to audiences and citizens. News media, for example, are seen to provide a voice for the people (according to liberal theory). In newspapers and other media, citizens speak (cf. Lewis et al., 2005) and articulate political viewpoints. As has been discussed throughout, however, this voice is mediated, and so often when we see citizens communicating with elites, this tends to be on terms already defined by elites (such as in the framing of what 'counts' as news, and the decisions about who gets to speak). Much of the literature within political communication assumes that the communication process is 'top down' – from elites to masses. In this sense we might think that citizens have very little autonomy; it is not of their choosing how they get to communicate their political views, experiences and ideas. The aim of this chapter is to unpack how citizens are given, or may claim, a political voice, and how they choose to use it or not. In looking at how citizens can communicate through the actions that are deemed 'legitimate' in democratic theory, we begin by touching on issues of representation and participation. These forms of political communication often tend to deny the role of media in the process, so we then turn to look at new media technologies as a site where citizens have been more active than democratic theory may have provided for. Underlying this is a discussion about the loss of connection with political elites around identity; political identity construction and its communication used to be the preserve of partisan loyalties, communicated to elites in the form of votes. As partisan loyalties and links have declined, the chapter explores how citizens express their identities and how these are communicated to those with power. Finally we turn to think about resistance as a form of political communication.