2018 | OriginalPaper | Chapter
How do you decide what to read?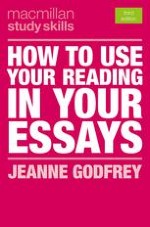 Author: Jeanne Godfrey
Publisher: Macmillan Education UK
Log in
You will often have a reading list and guidance from your tutors on which sources are most relevant for your course assignments, but you will also be expected to find material independently. This chapter looks firstly at the terminology tutors use when they talk about sources, and secondly gives you advice on thinking about, finding and selecting material effectively. Primary material is that which conveys an idea or information for the first time. Primary material can take any form: a laboratory experiment report, a survey, a letter, a YouTube video, a book or an academic article. Secondary material is that which uses, reports or discusses ideas or information already conceived of and communicated by its originator (the primary source).