2018 | OriginalPaper | Chapter
How do you decide what to read?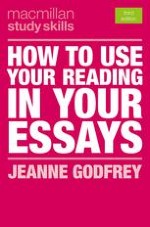 Author: Jeanne Godfrey
Publisher: Macmillan Education UK
Log in
The whole point of taking a critical approach to reading is to use your analysis and evaluation of different authors' ideas to produce your own way of seeing the issue. This means that in addition to analysing each text separately, you will also need to analyse the relationships between texts, sometimes referred to as 'synthesising sources'. By examining the relationships between different texts and ideas you will make your own connections and see your own patterns, and so develop your own insights. 'To synthesise' means to combine two or more things in order to create something new, and putting your synthesis of sources together with your own ideas is also generally referred to as 'synthesis' and 'writing a synthesis essay'.