2013 | OriginalPaper | Chapter
How do you understand and question what you read?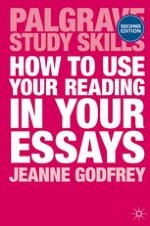 Author: Jeanne Godfrey
Publisher: Macmillan Education UK
Log in
When you sit down to read a book, chapter or article (we can call all of these texts) you should usually already know what type of text it is, who wrote it, that it is reliable and academic, and that it is relevant and specific to your essay question, so you will probably already have some idea about its content. The next step is to sit down and actually read it. This may sound straightforward, but the two most common reasons for students getting low marks for their essays are firstly, not reading carefully enough and/or not properly understanding the main point of the text, and secondly, not questioning what they read.