2018 | OriginalPaper | Chapter
How do you understand what you read?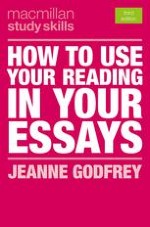 Author: Jeanne Godfrey
Publisher: Macmillan Education UK
Log in
By the time you have checked the reliability, relevance and purpose of a text, you will have a general idea of its content. The next step is to sit down and read in order to gain an accurate understanding of the material at both the surface level (words on the page) and the deeper, critical level. To do this you need to read in an active and questioning manner and to become really familiar with the text. This chapter deals with understanding the words on the page, how to focus and how to know when you have read enough, and Chapter A3 looks at reading critically. Note that this division between surface and deep-level reading is somewhat artificial, and that in reality you will probably be reading at both levels simultaneously.