2010 | OriginalPaper | Chapter
How Important was the 'British' Dimension to Restoration Political Life?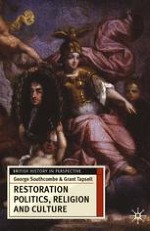 Authors: George Southcombe, Grant Tapsell
Publisher: Macmillan Education UK
Log in
In the later seventeenth century, as in other periods, the English despised the Scots, the Scots loathed the English, and nobody liked the Irish. (The Welsh were sufficiently beneath contempt that few wits even bothered to mock them.)1 Yet these generally antipathetic peoples were all ruled by the same kings who had the unenviable task of establishing systems of government strong enough to hold them together. Their record was distinctly chequered. Scotland and Ireland played immensely important roles in the fall of the Stuart monarchy in the 1640s. Scottish armed rebellion from 1639 left Charles I looking dangerously weak, whilst the well-publicised massacres of Protestants by Ulster Catholics in October 1641 further escalated a truly 'British' crisis in which the king was deeply tarnished in many Protestants' eyes by his use of Irish troops. But the Stuarts' non-English kingdoms were also vitally important in restoring them again in 1660. Charles II was proclaimed in Dublin before London, and the military intervention of General George Monck, commander of the New Model Army in Scotland, that ultimately ensured the return of the king was possible because Monck realised the strength of royalist sentiments North of the Border in 1659/60.2 These basic facts were not lost on Charles or his leading ministers. Nor were the 'British' aspects of the continuing complexities of government in church and state.