2017 | OriginalPaper | Chapter
How is News Communicated Politically?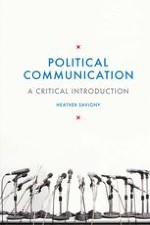 Author: Heather Savigny
Publisher: Macmillan Education UK
Log in
News, like media, is ubiquitous, and can be accessed through a variety of differing channels from apps on our phones to TV channels, to local and national newspapers. We have myriad means to find out what our political (and other) elites are doing on our behalf in public life. News also defines for us what is taking place in society around us. News is a (although as this book seeks to make clear, not the only) crucial way in which we find out about politics: both in the formal sense of the behaviour of elite political actors and the institutions of the state and culturally through the dissemination and circulation of norms and values. News implies, however, a formality: an accurate, objective record of events, that are deemed important. To ask political questions about news is to ask how it comes into existence: from the billions of events and occurrences that happen each day, why do we know about some and not others? Why does some news make the agenda and other events not be considered newsworthy? Who decides what counts as news? In asking these questions we are also reminded that news is communicated to us, via a plethora of media platforms, and constructs for us a version of reality, rather than being the measurement and objective presentation of one 'reality' out there. This chapter focuses particularly on the way news constructs for us a sense of the 'public' – not as an audience, but as a space, a site where social and political relations are constructed, negotiated and contested. So when we start to ask political questions about the nature of news, and what is being politically communicated, we need to ask a series of prior questions.