2017 | OriginalPaper | Chapter
How is Politics Communicated beyond the Nation State?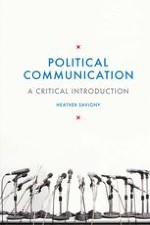 Author: Heather Savigny
Publisher: Macmillan Education UK
Log in
Perhaps the ultimate form of political communication by nation states as political actors is that of the declaration of war, which is a definitive act of 'persuasion' and communication: using hostile means to achieve political goals. Governments use a variety of techniques to communicate political messages to opponents, to citizens and to military audiences. Media play a crucial role in how war is framed to citizens at home; once war was declared on Iraq, for example, UK national newspapers played a generally supportive role calling on public support for 'our boys', personalizing the war agenda onto the soldiers who were fighting, drawing attention away from government policy. Media framing, sympathetic to the actions of the government of the day, is crucial in the battle for 'hearts and minds'. One of the most poignant moments towards the end of the Vietnam War was Nick Ut's communication of the atrocities being suffered by civilians in his photograph of a small girl fleeing a napalm attack in her village. This picture was widely credited with swaying public opinion against the war; military and political strategists learned the lessons of the need to ensure public support for later acts of warfare and crucially the need to get supportive media framing.