2011 | OriginalPaper | Chapter
How time flies!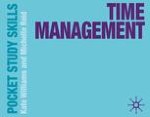 Authors: Kate Williams, Michelle Reid
Publisher: Macmillan Education UK
Log in
'Full time' undergraduate study is regarded by universities as the equivalent of a 'full time' job, about 35 to 37 hours a week on average, including all your lectures, seminars, lab time, fieldwork, placements, private study. Some weeks it will be less, and in other weeks you may need to put in more hours. On a postgraduate course you are likely to spend more hours a week studying to keep up with the intensity of the work.