2018 | Book
How to Write Better Essays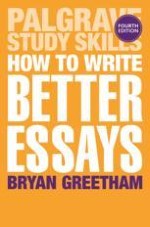 About this book
This indispensable guide takes students through each step of the essay writing process, enabling them to tackle written assignments with confidence. Students will develop their ability to analyse complex concepts, evaluate and critically engage with arguments, communicate their ideas clearly and concisely and generate more ideas of their own.
Chapters are short and succinct and cover topics such as reading purposefully, note-taking, essay writing in exams and avoiding plagiarism. Packed with practical activities and handy hints which students can apply to their own writing, this is an ideal resource for students looking to improve the quality and clarity of their academic writing.
This book will be a source of guidance and inspiration for students of all disciplines and levels who need to write essays as part of their course.
Table of Contents
Interpretation of the Question
Title

How to Write Better Essays

Publisher

Print ISBN

978-1-352-00114-3

Electronic ISBN

978-1-352-00115-0

Copyright Year

2018

DOI

https://doi.org/10.1057/978-1-352-00115-0

Author:

Bryan Greetham