2017 | OriginalPaper | Chapter
How well do they say it?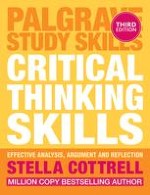 Clarity, consistency and structure
Author: Stella Cottrell
Publisher: Macmillan Education UK
Log in
In Chapter 3, we saw that there are normally six features to check for when searching for an argument, as summarised in the table on page 43: • author's position; • propositions and reasons; • a line of reasoning; • conclusion; • persuasion; •use of indicator and signal words. However, on their own, these features merely help us to identify whether an author is using an argument. They don't tell us about the quality of the argument, such as whether it is well structured and consistent. This chapter looks at how authors construct clear, consistent and logical arguments. You will have opportunities to look in more depth at how an argument is structured as a line of reasoning through the use of joint and independent reasons, interim conclusions and logical order.