2010 | OriginalPaper | Chapter
How will your research plan be read?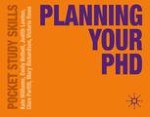 Authors: Kate Williams, Emily Bethell, Judith Lawton, Clare Parfitt, Mary Richardson, Victoria Rowe
Publisher: Macmillan Education UK
Log in
Your readers will be looking to see: your clarity of purpose: What is your aim? What are you trying to find out? What kind of answer are you looking for? your awareness of the scope of the relevant literature — and gaps within it your justification or rationale for your research your research methodology comprising the design and methods you plan to use, looking at soundness, appropriateness and feasibility the relevance and significance (not the same thing …) to the field and your strategy for managing the project, including your timescales. In short, your readers will be looking both for the essential qualities of research that is likely to make a contribution to the field, and for evidence that you can manage this ambitious project.