2018 | OriginalPaper | Chapter
Identity: A Personal Matter or a Political Issue?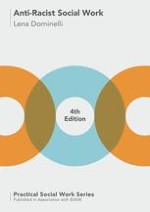 Author: Lena Dominelli
Publisher: Macmillan Education UK
Log in
Identity tends to be seen as a personal matter despite feminist declarations that 'the personal is political'. In this chapter, identity is considered a phenomenon that is created in and through interactions between individuals and groups, so that identity is formed in the process of creating others and being created by them. Thus, identity is configured as fluid and negotiated rather than fixed and essentialised. Expressions of identity are differentiated according to social divisions and the audience with which one interacts, and vary over time. In this context, diversity in identity formation becomes an important consideration of practice and social workers are encouraged to check with the individual, family, group or community that they are working with precisely how they interpret their own identity rather than presume that they know because they can apply a particular label to them. The role of religion in configuring identities will also be explored as it constitutes a particular dimension of specific identities, although its significance can differ according to country. Additionally, I consider the use of religion as a tool of oppression aimed at turning indigenous communities in Canada, Australia and the USA into 'European' ones. And I examine the impact upon social work practice of the rise of fundamentalist views of religions across the globe.